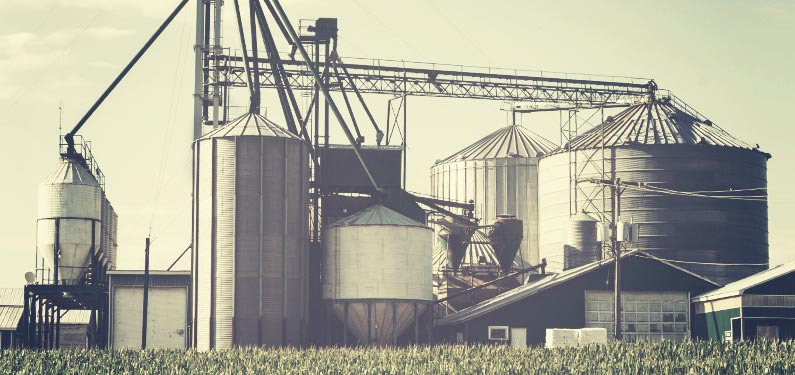 Request a Free Consultation
Commercial Agribusiness
Agribusiness Insurance encompasses a wide range of ag-based businesses. In the 21st century, the agricultural industry continues to grow and evolve at a rapid pace. As farmers, agricultural professionals, and entrepreneurs look to alternative sources of income, the insurance products that have provided coverage for the ag community must also evolve. Agribusinesses often have a unique blend of elements that make them a complex exposure to insure. Because they have a prominent agricultural element, many commercial insurers are unwilling to offer coverage for these businesses.
Likewise, insurance companies that have products to insure the family farm operation often are unable to adequately cover the full scale and scope of the Commercial Agribusiness. The need for a product that could adequately transfer to the insurer risks associated with an agricultural exposure and a commercial business, led to the creation of Commercial Ag or Agribusiness insurance products.
Agribusiness Insurance Coverage
Agribusinesses can have many of the same property and liability exposures as a family farm with added liability for business pursuits other than farming. A dairy farmer who engages in custom planting or harvesting may be operating an Agribusiness in addition to their farming operations.
Likewise, a poultry farmer who has a grain operation and is engaged in the buying, selling, or processing of grains and feed has an added exposure other than simple farming. Other insureds may be operating an organic fruit and vegetable distribution business and do not have their own farming element to insure. These examples or Agribusiness operations, and others, take us from "field to fork" or "farm to table".
Because of the complexity and variety of these businesses, detailed underwriting is a vital part in making sure all of your loss exposures are addressed and that the coverage you need, which ensures your business can perpetuate after a loss, is in place.
Agribusiness insurance can be one of the most complex types of insurance available and navigating the waters of company options and coverages can be made easier through the employment of an agent with a track record of qualified experience within the Agribusiness insurance marketplace.
Commercial Agribusiness policies can include:
General Liability
Premises Liabiliity
Personal and Advertising Liability
Coverage for your farm and commercial agricultural buildings
Coverage for your Business Personal Property- tools, supplies, building contents, etc.
Coverage for Mobile Equipment
Peak Season Coverage for Inventory
Sublimits for Pollution Liability
Loss of Earnings and Extra Expense due to a covered property claim
Equipment Breakdown
Protect Your Agribusiness with Ruhl Insurance
Working with an insurance agent who understands the exposures of your Agribusiness is imperative to avoid potential coverage gaps and pitfalls. Ruhl Insurance can help you find the right coverage. Call 717-665-2283 or request a quote.
Frequently Asked Questions
I live on the same property I use for my business, can I include my personal insurance coverages on my Agribusiness policy?

Depending on the insurance company with which your coverage is placed, you may be able to add an endorsement for personal liability to the Agribusiness policy. Likewise, you may be able to add property coverage for your home and personal articles within it.

Each company structures their policies differently, but if a company does not let you select coverage for your personal loss exposures within an Agribusiness policy, the company offering coverage for your Commercial Agribusiness exposures will likely provide you with a Farmowners policy to give you farm and personal liability as well coverage for your house, private, and farm structures.

If your policy is structured this way, you will still be dealing with one company, but you may have an additional policy to cover all of your assets and liability appropriately.

I thought I could add liability coverage for my custom farming operations to my Farmowners policy, why is my agent offering me a Commercial Agribusiness Policy?

Liability for business pursuits can be picked up on a farmowners policy to the extent that they are considered incidental. Usually, incidental means less than 10% of total receipts are generated from a specific business venture. However, definitions of incidental vary from carrier to carrier. If your business has grown significantly, the company may ask that the liability coverage, along with the equipment or structures used in your commercial business, be written on a Commercial Agribusiness policy.

Because these types of business pursuits have different loss exposures and frequency than farming operations, it is difficult to determine a correct rate when they are insured on a farm policy. The farmowners policy is designed for the operation that is primary a traditional farming operation with some ancillary commercial business pursuits besides. It is important that your agent outlines the coverage differences between the two policies. Certain coverages are more limited with an Agribusiness policies while others are much more broad than on a Farmowners policy.

Does a Commercial Agribusiness Policy cover my vehicles?

The short answer is "no". You need to request that your business auto policy be written in addition to the property and liability portion of a Commercial Agribusiness Policy. Once written, some companies will include the auto coverage under the same policy number as the rest of the Commercial Agribusiness Insurance Policy but the general liability or commercial property coverage does not automatically put coverage in place for automobiles; you need a business auto component added to the policy for that.

Other companies will issue a business auto policy with a completely separate policy number than the Agribusiness policy but it may still be sold as a package and may still be eligible for an account billing feature where your payment for all your coverages is combined into one billing installment.

I have one LLC which I use to operate all my businesses under, does this create a problem?

Potentially, yes. Because of the broad wording within commercial liability coverage forms, an insurance company offering you coverage for one business exposure could be drawn into a lawsuit involving another one of your companies if it's operated under the same name. For example, you are XYZ Inc. and you operate a fertilizer manufacturing plant in addition to your grain storage business. Needing insurance for your grain storage business, you call your local agent who writes coverage with Insurance Company A. Company A doesn't know that you are operating a fertilizer plant in addition to your grain operations.

While the grain operations fall within the eligibility requirements of their Agribusiness product, they do not offer insurance for fertilizer manufacturers. Because their policy language states that they will defend XYZ Inc. in the event of a liability claim, they would be responsible for defending a claim arising out of XYZ's fertilizer manufacturing. The company will likely discover that you have other business ventures that they are uncomfortable with and decline to write your coverage in the first place. Having a separate LLC or corporation for separate operations makes it easier for a company to write the business operation they are comfortable with rather than having to find one company who has an appetite for such a large range of types of business. Your options are increased if you establish a more defined division of entity.

Do I need worker's compensation insurance for my Agribusiness?

There is a good chance that you do. The agricultural exemptions in the state of Pennsylvania are very limited. If you have agricultural employees and any one employee is paid more than $1,200 annually or works over 30 days, you need to carry workers compensation on all your employees. If the workers you employ for your Agribusiness are not classified as agricultural workers, this exemption doesn't apply to you.

There are also other moral considerations, in addition to legal obligations, for carrying worker's compensation for your employees. In short, if you are employing workers in your Commercial Agribusiness, it is extremely unlikely that you are legally exempt from the worker's compensation statute. It is best to consult your local laws regarding these requirements and seek the advice of a practicing workers compensation attorney in the state(s) which you operate.

What is the difference between Farm Personal Property (FPP) and Business Personal Property (BPP)?

If you have a farmowners policy and you insure your farming equipment, supplies, tools, feed, etc., you will notice a line item for Farm Personal Property. Farm Personal Property coverage is very similar to an Inland Marine coverage in that your tractors and equipment are covered basically wherever you take them. Because a farmer is going to be moving equipment, the farmowners policy does not restrict the FPP coverage to a specific location.

Business Personal Property is location-specific and may only be covered at one location or a maximum number of feet from a building. BPP is typically limited to things like contents, supplies, or equipment that remains in a building. For this reason, the coverage is much more restrictive than FPP. A Commercial Agribusiness policy will often be written in conjunction with an Inland Marine coverage to provide appropriate protection for machinery items which may leave the premises. Things like harvesters and combines are regularly found on an Inland Marine policy while shop tools could be placed on the BPP line of the Agribusiness policy.