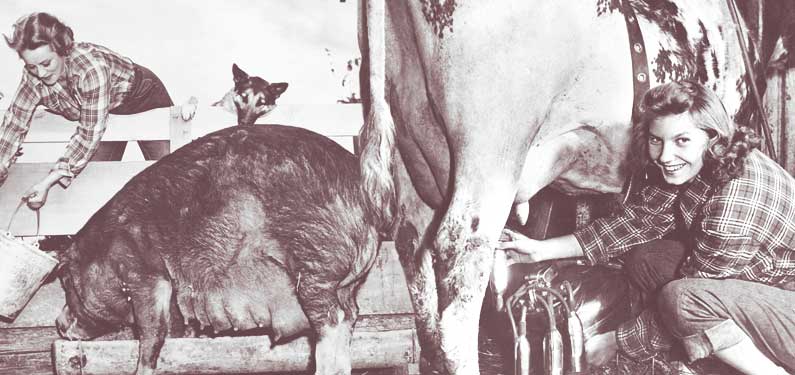 Request a Free Consultation
Farmowners Insurance
Farmowners Insurance is a complex product that should be purchased through an experienced Farm and Agribusiness Insurance Agency, who represent multiple Farm Insurance carriers. Farmowners Insurance pairs property and liability coverages into a single policy and provides coverage for a farmer's house and barns, as well as his/her personal and commercial liability exposures. Because the risks and exposures present on a farm are not consistent, each individual farm must be carefully underwritten to make sure that the risks and loss exposures are properly insured.
Farmers are presented with a multitude of optional coverages when purchasing a Farmowners policy. These can be difficult to navigate without an experienced and educated farm insurance agent. At Ruhl Insurance, we strive to look at the broad picture of your entire operation, and help you make educated decisions when transferring your risk through an insurance product versus self-insuring the losses, which you most likely cannot afford.
Farmowners insurance is a necessary tool for many operations to effectively guarantee the future of their farm for the next generation. Due to the complexity and diversity of farms today, writing a complete and effective Farmowners insurance policy requires special attention to detail. Ruhl Insurance has extensive carrier options to obtain the coverage you need.
Providing Coverage For More Than Just the Farm
Farmowners policies can provide coverage for things like unlicensed farm trucks, or sticker trucks, that you may use in your farming operations. Because this coverage is written through the Farmowners insurance policy, it can typically be added at a cost savings advantage over obtaining insurance through a Car insurance product.
Other farmers may have a roadside stand on premises where they sell their products directly to the consumer. The Farmowners Insurance Policy provides coverage for these, and other business pursuits such as horse boarding, riding lessons, rental space, freezer beef sales, etc.
Insuring Multiple Farm Locations
Yet another advantage of a Farmowners insurance policy is that coverage is more abundant with fewer eligibility requirements. The limitations for agricultural use of outbuildings are not present as they sometimes are with a Homeowners insurance policy.
For liability reasons, Homeowners insurance policies may limit or restrict the number of horses or other livestock you may have on your property. Most Farmowners insurance policies do not contain these limitations, although certain companies may have stricter eligibility requirements for exotic animal farms.
Other advantages Farmowners policyholders benefit from is the ability to cover multiple locations on the same policy against both Property and Liability losses. Most homeowner's policies will not extend property coverage beyond the insured's residence premises.
However, because farmers often own multiple locations, the Farmowners insurance policy will provide them with the coverages they need at their additional locations. Farmers who have dwellings rented to others at additional farm locations can obtain Loss of Rents coverage on rental dwellings, providing another valuable coverage to their Farmowners Insurance portfolio.
Farm Equipment Insurance
Modern farmers have farm equipment inventory lists that rival most commercial businesses today. When this equipment is financed, insurance will be required by the lender (Loss Payee). Farmers are presented with multiple ways to insure their equipment on a Farmowners insurance policy.
Two Ways a Farmer Can Insure Their Equipment:
Scheduled Farm Personal Property – equipment list, provides rate incentives to the farmer who individually lists all equipment and specific values for each piece.
Blanket Farm Personal Property Inventory – provides more flexibility at time of loss as long as the insured's value of the whole inventory is not less than 80% of the actual cash value of the farmer's equipment.
Farm Equipment insurance can provide coverage for causes of loss that include intake of foreign objects, protecting the farmer from expensive losses due to the accidental intake of rocks or other debris that is hidden in the field at harvest time.
A farmer with Farm Equipment insurance added to their policy is covered even while off their farm premises. Ruhl agents are experienced in the farming industry, giving them the ability to provide guidance to farmers when selecting the most cost-effective way to adequately cover their equipment inventory.
Farm Products Insurance
Farm products can be covered within a Farmowners Policy under the Farm Personal Property Coverage. Field crops in storage, as well as herbicide, pesticide, seed and feed, are all valuable business assets to today's farmers. The biggest difference between farm products and farm equipment is the potential need for Peak Season Inventory Endorsements. Farmers with high inventory values of farm products may be able to save premium by sitting down with an agent and discussing the options of applying a Peak Season Endorsement to their Farmowners Policy.
Because inventory levels are constantly fluctuating, in reality, a farmer does not need to insure the value of their products for their highest inventory month, throughout the whole year. If the inventory volume is predictable, a farmer may assign lesser inventory values to months when inventory will be low. The months will be averaged, and the farmer will only pay premium on the average inventory value. It is important to note that a Farmowners Policy with a Peak Season Inventory Endorsement will only pay the maximum stated for the particular month if a loss occurs.
An Example of Peak Season Inventory Endorsement in Action
A farmer who insures $12,000 of corn silage from October to March and $6,000 of Corn Silage from March to September will pay premium on $9,000 of inventory (instead of $12,000). However, if a loss occurs in the month of April, the farmer will only receive up to $6,000 from their Farmowners Insurance even if the value of their corn silage in storage is $7,000 at the time of loss.
However, if the loss occurs in November, the scheduled amount of $12,000 is the most the farmer will receive. In this scenario, the farmer can avoid paying premium on $3,000 of corn silage. However, it is important that his inventory changes at a predictable rate in order to avoid underinsuring the product during lower scheduled months.
Discussing the pros and cons of all scenarios can help lead to educated decisions and properly written Farmowners Insurance Policies. Ask a Ruhl Insurance agent if the potential premium savings make a Peak Season Endorsements logical for your Farmowners Policy.
Livestock Insurance
Similar to Farm Equipment insurance, Livestock insurance can be added to a Farmowners insurance policy under the Farm Personal Property coverage. Similar to equipment, livestock can be financed by a lender and need to be insured. Other times, the farmer who has a valuable herd of cattle may want to elect coverage for them under their Farmowners insurance policy. Losses to farm animals can be harmful to both small family farms as well as large commercial operations.
Farmers should be aware of coinsurance requirements for both their scheduled livestock and livestock covered as part of a "Blanket" limit. Per head limitations may apply, depending on the insurance carrier who you buy coverage through. Likewise, maximum value may change for different age categories within a herd of cattle.
Deciding how much Livestock insurance you want to include on your Farmowners insurance policy is something that your Ruhl Insurance agent can help you decipher. Coverage options, as well as limitations, are important considerations to bear in mind when purchasing additional Farm Personal Property coverages in conjunction with your Farmowners insurance policy.
Farm Equipment Breakdown Insurance
For years, commercial businesses have benefited from the coverage provided through Equipment Breakdown insurance. Formerly known as Boiler and Machinery insurance, Equipment Breakdown insurance is available with almost all Farmowners insurance policies. Some policies will extend coverage to equipment within the residence, providing further protection against unexpected losses. Equipment Breakdown insurance can cover sudden and accidental damage to fixed pieces of equipment due to mechanical failure.
Payment for damages to pumps, cooling plates, ventilation systems, etc. can go to the farmer in the event there is Equipment Breakdown insurance written with the Farmowners insurance policy. Additionally, when Loss of Income insurance is purchased with a Farmowners product, Equipment Breakdown can trigger a payment by the insurance company to the farmer if further economic loss is realized due to a covered Equipment Breakdown claim.
That being said, Equipment Breakdown insurance can be a complex, but necessary, coverage for many farming operations today. Talking with a Ruhl Insurance agent can help you better understand what protection this coverage provides your business.
Farmowners Insurance Endorsements
Farmowners Insurance policies have become more consumer-friendly in recent years in that they offer many of the same coverage endorsements as a homeowner policy. Important coverages like Identity Fraud Expense insurance and Personal Injury Liability insurance are available as endorsements to a standard Farmowners insurance policy.
The cost to restore your identity can be significant, even if you catch the security breach early. Identity Theft endorsements can provide thousands of dollars of coverage for expenses incurred in re-establishing your credit. Likewise, liability for personal injury lawsuits which could be brought against a farmer for instances regarding things such as what his/her child writes on social media networks can be covered through a very inexpensive Personal Injury Liability endorsement.
Other coverage for events like Septic Backup can be covered by the Backup of Sewers and Drains endorsement. Often, these coverage endorsements are available through an endorsement package that gives you multiple coverage extensions for a much lower rate than buying the coverage individually.
It is important to have a conversation with an experienced agent regarding your Farmowners insurance to determine where you can get all of the coverage extensions you need at the best value available.
Frequently Asked Questions
My Farmowners Insurance Policy is written in the name of my LLC, does this give me Personal Liability coverage?

Your Farmowners insurance policy written in the name of your LLC will likely need an endorsement for Personal Liability added to it. When written in the name of a commercial entity, the Farmowners policy will be written on a Commercial Liability form. You should ask to be added as an Additional Insured on the policy and an endorsement for Personal Liability to be included on the policy.

Does my policy provide replacement cost for the well pump in my dwelling?

Depending on the company, your well pump could be considered as fixed equipment and therefore part of your dwelling structure. If you have replacement cost on the dwelling (you should), you would have replacement cost on your well pump. Some companies do not include this coverage automatically and an inexpensive endorsement for Well Pump Replacement Cost can be added to your Farmowners insurance policy.

What is the difference between Replacement Cost and Actual Cash Value?

Replacement cost is the total cost to rebuild the insured structure from the ground up (not including foundation) while actual cash value is the replacement cost minus depreciation. Ex. A $20,000, 40-year roof that is 20 years old at the time of loss has an actual cash value of $10,000.

Do I have to rebuild my barn in order to receive replacement cost?

In most cases, if you do not choose to rebuild your barn your loss will be settled on an actual cash value basis (Replacement Cost minus Depreciation). Some policies may include a rebuilding clause, which provides a premium reduction, but will penalize the insured up to 50% of actual cash value if they choose not to rebuild their barn in the event of a loss. Rebuilding clause options should be considered and the cost benefits carefully weighed before selecting this as part of a Farmowners insurance policy.

Why do I have to insure my buildings to 80% of their replacement cost?

Yes, most Farmowners insurance policies will require buildings be insured to at least 80% to receive replacement cost. If the buildings are insured for less, the loss could be settled on an actual cash value basis. Additionally, it is important to have buildings insured within 80% of replacement cost in order to receive replacement cost for partial losses, like roof damage.

Does my Farm Liability insurance provide coverage while I am driving down the road on a tractor?

Yes, your Farm Liability insurance covers your operations in relation to farming.

Do I have coverage for rented and borrowed farm equipment?

Some Farmowners insurance policies automatically include a limit of insurance for borrowed or rented farm equipment. The included amount may or may not be enough, depending on what kind of equipment you borrow or rent. Other policies do not include any coverage automatically and it must be added to your Farm Personal Property Inventory List. You should have a limit of insurance adequate enough to cover at least the most expensive equipment configuration that you rent or borrow. Keep in mind that most Farmowners policies will not cover the equipment that you rent to others, making it important for you to verify that the lessee of your equipment has adequate limits on their own policy to cover the equipment they are renting from you.

Can I get liability coverage for custom harvesting on my Farmowners Insurance Policy?

Yes, custom harvesting can be added to most Farmowners insurance policy. Each insurance company has different criteria for how much custom harvesting they are willing to insure on a standard Farmowners insurance policy before it must go to a separate Agribusiness insurance policy. A few Farm insurance companies will not write a Farmowners insurance policy for a farmer doing custom work. It is important to talk with your agent about your insurance company's appetite for custom operators.

My child makes and sells homemade soaps, do we have coverage for that?

Many Incidental Business Pursuits are insurable within a Farmowners Insurance Policy. Things like roadside stands, farm market stands, freezer beef sales, homemade soaps, baked goods and more are all things that can be added to most Farmowners policies. Certain companies will not write a Farmowners policy for farmers who are selling potentially hazardous products such as raw milk. The insurance company will likely ask for the gross annual receipts for each business exposure in order to get an accurate assessment of the risk they are insuring. If you have a high receipt volume, it may more appropriate for you to be insured on an Agribusiness Insurance policy.

I have a vacation property, can I add it to my Farmowners Insurance Policy?

One of the things people don't know about farm insurance is that you can get coverage for seasonal dwellings. Depending on the carrier, vacation dwellings are insurable for property and liability on a Farmowners insurance policy. Some insurance companies will not insure an unoccupied dwelling and others will only insure a dwelling if there is central heat, scenarios which may exclude your seasonal get-a-way from being coverable on your Farmowners policy. Still, there are many carriers who will simply add the location and acreage to the liability portion of the policy and add the seasonal dwelling as an additional structure.

The best thing to do is consult your agent about your company's appetite for adding seasonal to a Farmowners policy and if they can't do it you may be forced to switch Farmowners insurance companies or purchase a dwelling fire policy (which may come with limited perils). This is a reason why it is important to deal with an agent with multiple options for your Farmowners Insurance Program.