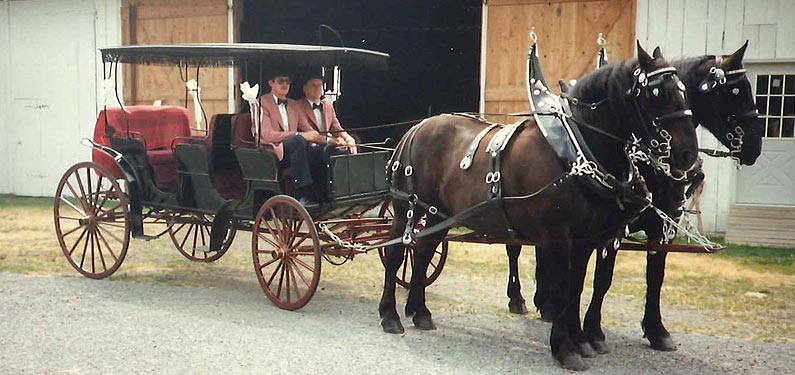 Request a Free Consultation
Getting carriage insurance is easy.
For questions and support call (800) 537-6880
Complete the 5 min. online inquiry form.
Hear from a Ruhl representative.
Choose coverage that's best for you.
Carriage Liability Insurance
Horse-drawn carriage rides are a great way to turn your horse habit into a revenue-generating enterprise.  Horses always seem to create a unique draw and the nostalgia for a simpler time leads people to partake in the novelty and enjoyment of a horse-drawn vehicle ride.  However, it is important that your entrepreneurial spirit doesn't lead to financial hardships if you have an unfortunate accident.
Every Carriage Operation Is Unique
While all carriage operations share similar potential hazards, every operation is, indeed, unique.  One operation may specialize in hack services, picking up passengers curbside in a major metropolitan area, while other businesses provide special events services and help make a bride and groom's day a little more special.
In addition to these two examples, there is every kind of carriage operation imaginable- from Amish buggy rides to rides at a small town Christmas festival.  Consider then the popularity of trail rides and it becomes quickly evident that horse activities are in high demand with the general public.
Horses Can Be Unpredictable
Even the most well-trained horses can encounter unsuspected obstacles or hazards and sometimes these events lead to accidents that cause both bodily injury and property damage.  The size, speed, and sheer power of a horse together create a significant liability exposure that should not go unaddressed.
If your business revolves around equine activities, it is imperative to have the appropriate coverage in place to ward against liability claims if and when they arise.  A runaway horse can not only injure the passengers in the carriage, but it can also quickly cause thousands of dollars of property damage to parked cars and other property that finds itself in the frightened horse's path.
Self-Insuring Is Too Risky
Taking into consideration that people have been permanently injured or even killed in horse-related accidents, it is extremely hard to predict what a carriage operator's maximum possible liability loss may be and therefore hard to determine what amount of risk you can prudently self-insure.  The answer for most carriage operators is that self-insuring just isn't worth the risk or your livelihood, your real assets, or your life savings.
Operating your carriage business in crowded metropolitan areas may increase your loss potential and make a commercial excess or umbrella policy less of an option and more of a necessity. However, even occasional operators have significant exposures created by driving in tight spots or crowded areas with excessive noise, floating objects, and/or a lot of people who are not horse-savvy.  Furthermore, whether you are a big or small carriage company, you may have to provide proof of insurance to even be able to operate your business on certain premises.
Rely On Experience To Get The Right Coverage
Carriage liability insurance is a difficult line of business to write because so few insurance companies are comfortable offering coverage to businesses who engage in such activities.  For this reason, it is helpful to work with an insurance agent with extensive experience in this industry, who has positioned itself as a leading writer of carriage liability insurance.  To continue the conversation with one of our agents, call 1-800-537-6880.
Frequently Asked Questions
Does Carriage Liability Insurance cover my drivers and assistants?

Carriage liability insurance protects you against third party claims of bodily injury or property damage arising out of your negligence. This means that the actions of your workers, when they are acting on behalf of your company, are covered within your liability limit of insurance.

However, injuries to your workers are not covered by a general liability policy. A worker's compensation policy is needed to provide coverage for workplace injuries and wage loss of your employees. Each state has different workers compensation requirements, so it is important to consult with an insurance agent licensed in your state.

Does Carriage Liability Insurance cover my carriage?

Carriage liability insurance is coverage for bodily injury or damage to another person or their property. It does not provide you coverage for your own property. You need to purchase property insurance if you wish to cover your own items. This can be written on what is known as an Inland Marine policy and provided in conjunction with the liability policy.

Why do I need an Inland Marine policy for my carriage?

Inland Marine gives you some coverage if your carriage is damaged in an accident. This coverage applies regardless if your carriage is on your farm premises or traveling down a public roadway. The insurance company will ask you to establish the value of your carriage and they will "agree" to its value prior to issuing the policy. This "agreed value" is what you can claim as a property loss if your carriage is totaled in an accident.

A property owner/municipality is requiring that I list them as Additional Insured on my policy. Should I do it?

You might not have a choice if you want to get the job. However, you should be aware of what adding a party as additional insured can do to your insurance limit. If the additional insured is named in a lawsuit as a result of your operations, your policy will provide them with primary coverage.

In this scenario, your limit of insurance can be split between you and the additional insured. If the liability occurrence limit is exhausted, the additional insured may have their own policy to fall back on as "excess" while you may be left with an insufficient coverage limit. For this reason, you should never offer to make someone an additional insured on your policy; however, if they request it, you may have to comply with their requirements in order to conduct your business on their property and generate revenue from the job.

My municipality is requiring that I have more than a $1 Million dollar occurrence limit, what should I do?

There are commercial excess policies available that will provide you with additional limits of insurance if your base carriage liability policy is not enough. Umbrella limits start at $1 Million dollars and may go up to $5 million, or more. Depending on your contractual obligations with the municipality, you may need to discuss adding excess liability limits to your insurance portfolio.

Does my carriage liability policy provide equine liability protection when my horses are pastured on the farm?

A carriage liability policy specifically applies to your carriage operations for hire. The coverage does not provide the same around-the-clock equine liability protection that a personal or commercial equine liability policy provides.

For example, if your horse gets out of the pasture in the middle of the night and is struck by a motorist, you would be best-served by having some kind of equine liability coverage in place. This can be achieved through a standalone equine personal liability policy or by having a farmowner's insurance policy in place.

Does this cover trail rides?

Operations which include trail rides can be covered by this policy. You may be required to purchase an additional accident policy in conjunction with the general liability policy. The underwriter may have a few extra questions about the trail ride operations and what kind of safeguards you have in place to avoid injuries to participants. You will need to provide annual gross receipt amounts for both the trail rides and carriage rides so the company can determine what kind of loss exposures your operations present.

I have a petting zoo, does this create a problem?

Usually, we can insure operations with petting zoos. You may encounter a few additional questions during the process, but petting zoos typically do not present significant roadblocks. Regardless of what is required by your insurance company, you should be aware of best practices when it comes to bacterial transfer from animals to children and have adequate hand washing/sanitizer stations set up around the premises.

My horse is important to my operation, how do I get insurance on him?

Coverage for the loss of your carriage horse can be provided by purchasing an equine mortality policy. You can get an estimate of how much it will cost by filling out our online quote form on the Equine Mortality Insurance page.