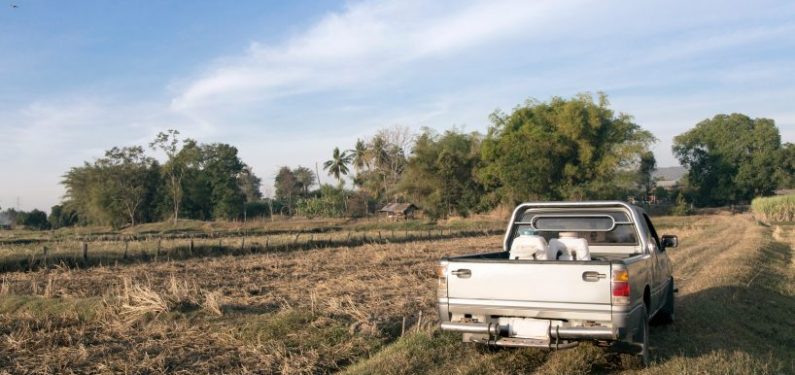 4 Types of Unlicensed Farm Trucks in PA
February 20, 2020
Unlicensed farm trucks can be insured for liability purposes on a Farmowner's Insurance policy. In many cases, limited physical damage coverage can be added if the auto is one of higher value and the farmer wishes to protect his financial equity in the vehicle. Unlicensed farm trucks are, generally speaking, not subject to mandatory vehicle inspections or the same registration requirements as standard automobiles, although biennial farm registration and proper titling are still required. There are several different types of unlicensed farm trucks in PA.
Their use, radius of operation, and gross vehicle weight determine which category they will fall into and it is important that farmers use their unlicensed trucks in accordance with the laws and regulations so that they do not potentially void their insurance coverage. Here are the various types of exempt farm vehicles in PA and a few details about the regulations pertaining to their use:
1. Type A
Farm vehicles that are rated at 10,000 lbs. GVW, or less, and operate within 50 miles of the farm fall into the Type A category. They can be operated on a public thoroughfare between farms owned by the individual the vehicle is titled to that are not more than 50 miles apart.
These farm vehicles may also be driven on the road within 50 miles of the farm for hauling the farmer's goods or supplies or for the maintenance or repair of the truck or a trailer hauled by the truck. These vehicles do not need to have an inspection sticker, but their use is limited to the hours between sunrise and sunset.
2. Type B
Farm vehicles that fall into the Type B category have many of the same restrictions as Type A, with a few differences. Type B vehicles fall within 10,001 lbs-17,000 lbs. GVW. Like Type A vehicles, they do not have to display an inspection sticker and their use is limited to the hours between sunrise and sunset.
However, these types of exempt farm vehicles are limited to operating within a 25-mile radius of the farm. The exception to this is when the farmer is driving to have the vehicle serviced or hauling a trailer for servicing with the unlicensed truck.
3. Type C
Exempt vehicles in the Type C category are those that have a gross vehicle weight of over 17,000 lbs. As with type A and B, they are restricted in their use to the hours between sunrise and sunset.
However, they may only be operated within a 10-mile radius of the farm for the purpose of travel between farms owned or operated by the entity to whom the vehicle is titled. For the purposes of maintenance of the vehicle or a trailer being towed by the vehicle, that radius is increased to 25 miles.
4. Type D
Although Type D vehicles are exempt from standard vehicle registration, they are subject to inspection and must display an inspection sticker. Like Type C vehicles, these are trucks over 17,000 lbs. GVW.
Type D vehicles with a valid inspection sticker may be operated within 50 miles of the farm and may be operated during any hours of the day. They can be driven up to a 50-mile radius for the purpose of servicing.
A Note About Non-Exempt Farm Trucks
Insurance for vehicles on the farm can get complicated. Vehicles that do not qualify for any of the above four categories must be registered. However, these autos can still be registered as a farm vehicle and given special farm plates.
They will, however, still be somewhat restricted in their use. While no mileage limitations exist, their use is restricted primarily to that pertaining to farm business and that of the owner only.
Hopefully, this quick outline of the types of unlicensed farm trucks in PA can serve as a reference and guide as you determine the appropriate registration or exemption for your farm-use vehicles.
There are a few different types of farm truck insurance policies available. So, be sure to have a discussion with an experienced, independent agricultural insurance agent so that you can rest assured that you have the appropriate liability and property coverages in place for all of your farm vehicles.
If you need assistance or have any questions pertaining to farm-use trucks, we would be happy to help; give us a call at 1-800-537-6880 or 717-665-2283.
Disclaimer: Information and claims presented in this content are meant for informative, illustrative purposes and should not be considered legally binding.