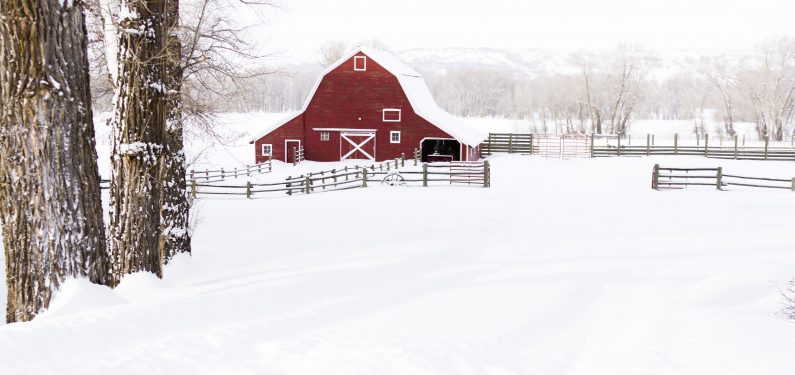 Does Your Farm Insurance Cover Snow Load?
November 2, 2017
As we enter Fall and prepare for the inevitability of Winter, it is important to review your insurance policy before any catastrophic weather events occur. In the northern half of the United States, significant snowfalls can lead to heavy loads on roofs and trusses, which may have been engineered prior to the passing of more stringent building codes. As such, it is important to understand just what your policy is, and isn't, covering. Many farmowner's insurance policies are written on a "named perils" basis, meaning if it isn't listed as a covered cause of loss, there is no coverage!
Basic Perils
Policyholders may be surprised to learn that even in cases when a mortgage is present, and thus an insurance policy is required by the bank, some causes of loss may not be covered under their insurance contract. Your banker may refer to the insurance they require you to carry because of your loan as "Fire" insurance. Though "Fire" insurance is somewhat of an antiquated term, banks' requirements are usually satisfied by a policy with Basic Perils. While a policy which offers "Basic" causes of loss may suffice for your banker, as it provides coverage for things like fire, windstorm, and lightning, it may also leave significant coverage gaps in your insurance portfolio.
Winter is the time of year when many of these gaps become most apparent, and unfortunately for many policyholders, that realization too often comes after an uncovered loss occurs. Would you be surprised to learn that a policy written with Basic causes of loss does not cover the peril of "collapse due to weight of ice, sleet, and snow"?
Farm Buildings and Snow Collapse
Given the age and construction type of many farm buildings, this is certainly a possible cause of loss. Farm buildings often have additions which lead to different roof lines, creating a perfect place for drifting snow to collect. This results in additional weight load on roofs and trusses.
Likewise, farm structures often span large areas with flatter roof pitches, creating an increased structural burden when heavy snowfall occurs. Considering how snowfalls that occur at the beginning and end of Winter are often wetter, heavier snow, or how even fresh powder will draw moisture and increase its weight load as it melts, the peril of "collapse" is typically not a cause of loss to be without.
Broad Perils
Multiple options exist for policyholders who wish to add this coverage to their farmowner's insurance plan. If you see that your farm buildings are covered on "Basic" perils, ask your agent to endorse your policy to "Broad" perils. In addition to "collapse due to weight of ice, sleet, and snow", "Broad" perils will typically include water damage from the freezing and/or rupture of domestic pipes, another important winter-time cause of loss.
Some insurance companies may not offer "Broad" form perils on older agricultural buildings; however, many will still endorse your policy to cover your building for "Basic" perils and the additional peril of "collapse due to weight of ice, sleet, and snow". This "workaround" may resolve most of your winter concerns for your buildings, but it shouldn't be confused as being a substitute for Broad form perils.
If your current insurance company won't offer either of these options, it may be time to look for other alternatives so that your winter risk exposures are appropriately addressed by your insurance policy. A licensed insurance agent can help you navigate the complexities of coverage forms to make sure you have the protection you need going into the Winter months. Contact us or call (717) 665-2283 or (800) 537-6880 today for more information on how you can get coverage!
Disclaimer: Information and claims presented in this content are meant for informative, illustrative purposes and should not be considered legally binding.