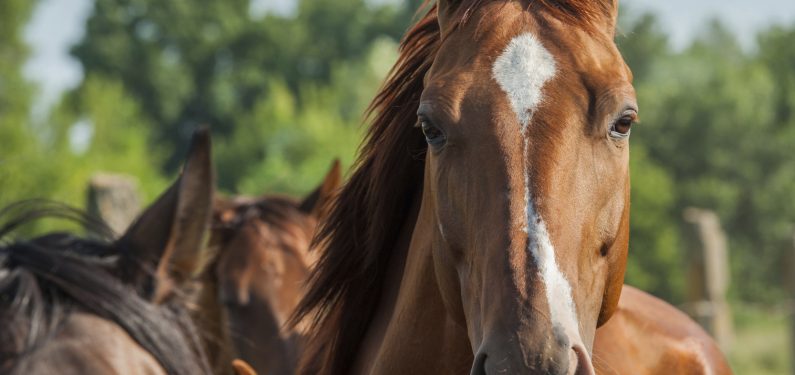 The Differences Between Loss of Use and Stallion Infertility Insurance
May 16, 2019
If you are a horse breeder and you have invested in, or raised, a high-value stallion, you may have considered purchasing an Equine Mortality Policy to protect your horse investment. An Equine Mortality policy acts kind of like a life insurance policy for your horse, but there are other benefits to purchasing this type of policy in order to protect your financial investment.
One of the biggest benefits is that you give yourself access to many other types of coverages and endorsements that can typically only be acquired in conjunction with a Mortality Policy. When it comes to stallion ownership and management, there are unique exposures that could lead to a financial loss even if your horse is still alive. One of these risks is stallion infertility. Many people confuse this coverage with another endorsement available with mortality policies called "Loss of Use".
Below is a description of these endorsements to help you understand each type of coverage and what it offers. Remember that each insurance company and policy can have subtle differences and, as such, the following is a general guideline and your insurance policy language always prevails. Here are the differences between Loss of Use and Stallion Infertility Insurance:
Loss of Use Insurance
Loss of Use coverage is an endorsement that can be purchased so that a claim payment may be triggered and paid to you in the event that your horse's value is depreciated by accident or illness that leaves them unable to perform their intended use. The included causes of loss of use are fairly broad, but beware that your policy may have some exclusions in place that limit the circumstances that will trigger a claim payment.
Most policies will pay up to 50% of the horse's insured limit if a Loss of Use occurs. If your horse dies, its value is depleted to $0 and as such the equine mortality coverage pays you the policy limit. However, in a circumstance of Loss of Use, your horse likely retains some value and so the coverage is intended to bridge the gap between the value it had prior to the loss and its currently depreciated value.
For instance, imagine a mare that is used for showing or jumping sustains a serious leg injury and may not be sound for the show ring or strenuous athletic activity any longer. The injury does not change her past show record or her genetic potential and she may still be quite sound for use as a broodmare. Her market value has undoubtedly been degraded as a result of the injury but it has not been reduced to zero.
Before you buy this endorsement in conjunction with your mortality coverage, it is important to understand how these types of claim payments are made! Horse owners wishing to purchase a Full Loss of Use endorsement should expect the coverage to approximately double their base mortality premium. Like Mortality coverage, Loss of Use premiums are based upon a percentage of the insured value of the horse.
Stallion Infertility Insurance
The majority of the value of a stud horse purchased with the intent to be used as a herd sire or shipping stallion comes from his ability to sire offspring. If a stallion becomes unable to settle a mare, its value will be severely diminished. In some breeds, stallions are often not trained or used for driving, and so, an infertile stallion could be quickly reduced to a "pasture ornament" as they say.
Infertility can happen as a result of a variety of circumstances, including, but not limited to, accident, sickness, or disease. Stallions may be on the receiving end of kicks coming from mares who are not quite ready to breed and, sometimes, these situations can render permanent damage. Additionally, cancer or hernias can necessitate castration and dangerously high fevers and other illness can affect fertility as well.
Stallion owners who own a horse that required a significant financial investment to purchase or owners who stand a popular shipping stud that provides a valuable revenue stream to their breeding operations may want to seriously consider adding Stallion Infertility to their Mortality Policy. Like Full Loss of Use coverage, infertility endorsements are offered as an addition to an Equine Mortality Policy. However, unlike Full Loss of Use endorsements, Stallion Infertility claims are limited to a narrower scope of causes of loss; but, many insurance companies' Stallion Infertility endorsements will allow the horse owner to collect up to 100% of the insured value of the stud horse.
Because it is more limited in scope, Stallion Infertility Insurance is typically not as expensive as Full Loss of Use and can be an economical add-on that provides some additional peace of mind. Before you ask to add this coverage to a mortality policy, keep in mind that stallions eligible for this coverage endorsement typically must be considered as "proven". In terms of your equine insurance policy, "proven" means that they have successfully bred and settled mares; it does not relate to their offspring's success in a show ring, sale ring, or racetrack.
Both Full Loss of Use and Stallion Infertility coverage provide equine owners with important protections against unexpected and unfortunate situations relating to their horses. Determining which of these coverages is the right choice in each individual situation requires some careful consideration and discussion. If you need help deciding which coverage is right for you, contact us at 1-800-537-6880 or 717-665-2283 and one of our experienced agents can help you through the many options and nuances of an Equine Insurance Policy.
Disclaimer: Information and claims presented in this content are meant for informative, illustrative purposes and should not be considered legally binding.